CEV CELEBRATING AAZADI KA AMRIT MAHOTSAV
MOST ECONOMICAL 50 HRS EDUCATIONAL COURSE
AS PER THE NEW SYLLABUS -2022
EARLY BIRD OFFER
10,000/- (ONLINE) INCLUDING STUDY MATERIAL & ENROLMENT FEE
EARLY BIRD OFFER (ONLY IF THE DATE IS EXTENDED BY THE AUTHORITY)
20,000/- (OFFLINE) INCLUDING STUDY MATERIAL & ENROLMENT FEE
5000/- (ONLINE) REFRESHER COURSE FEE-(FOR OTHER RVO MEMBERS INCLUDING STUDY MATERIAL)
ADVANCE SEAT BOOKING AMOUNT-5000/- 
NO FEE FOR CEV IAF EXISTING MEMBERS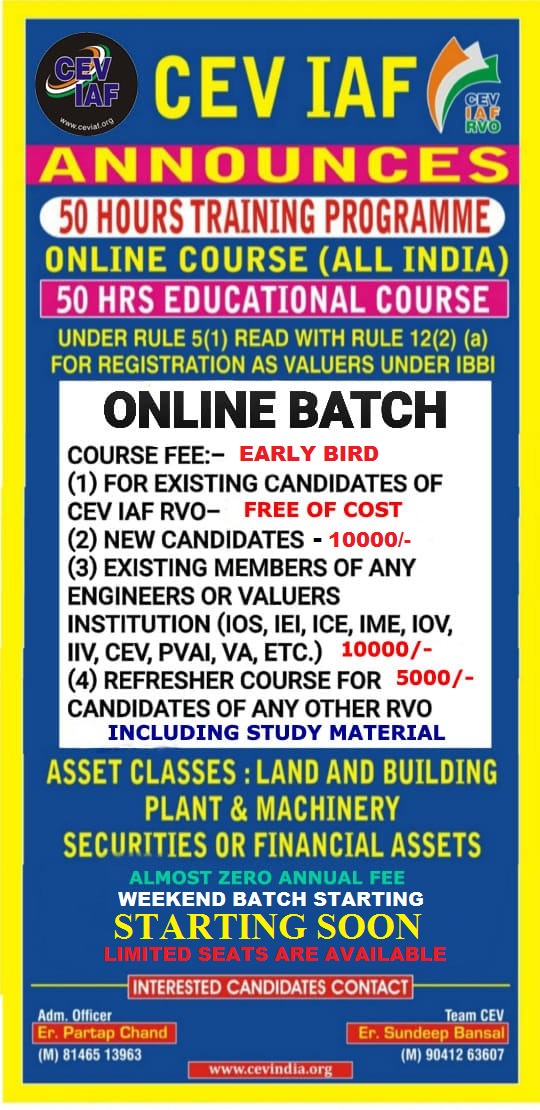 CEV ANNOUNCES 21st BATCH
STARTING IN NOV-2022
WITH E-BOOK FACILITIES
50 HRS EDUCATIONAL COURSE UNDER RULE 5(1) READ WITH RULE 12(2)(a) FOR REGISTRATION AS VALUERS BY CEV IAF RVO
DIRECT GATEWAY LINK FOR NEW CANDIDATES INTERESTED TO PAY DURING THE EARLY BIRD OFFER
(VALID FOR ENROLLMENT UP TO THE FIRST 50 CANDIDATES).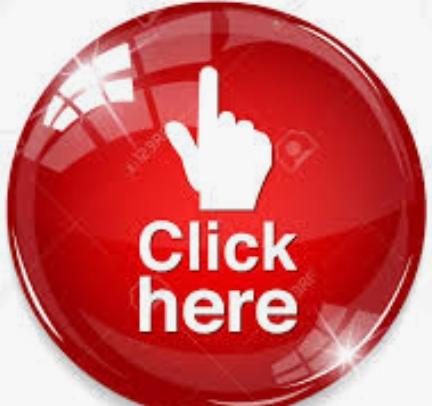 CEV ANNOUNCES AWARDS / SCHOLARSHIPS FOR ITS MEMBERS
OPPORTUNITY TO GET FULL FEE BACK FOR EDUCATIONAL COURSES ALONG WITH CERTIFICATE OF EXCELLENCE
ANNOUNCING NEW BATCH 
21st CONTINUOUS SESSION OF 50 HRS EDUCATIONAL COURSE
PROBABLE DATES OF 21st  BATCH
 WILL BE ANNOUNCED SOON
CEV IAF RVO IS PLANNING TO CONDUCT 21st ALL INDIA 50 hrs Education Course Program as per revised IBBI syllabus 2022 is proposed during-NOV 2022 under the banner of the most trusted, economical, transparent, charitable & members friendly RVO… CEV IAF RVO
1. Land & Building
2. Plant & Machinery
3. Securities or Financial Assets
Fee package includes
1. One-time Enrollment fee.
2. Lifetime No Enrollment Fees for attending any new batches.
4. MCQs bank and live support & Unlimited subjectwise free Mock Test through dedicated android app.
5. Study material Hard Copy / soft copy of all subjects.
6. Opportunity to attend unlimited REFRESHER COURSES facilities for CEV IAF CANDIDATES for next physical batches any time and anywhere in INDIA.
7. Specialized personalized help till EXAMINATION and afterward.
8.  Study material Hard copies of copyright book by registered parcel
(AT EXTRA PAYMENT OF 3000/- FOR EARLY BIRD).
9. Highly qualified, experienced & dedicated faculty which is the best in the whole ecosystem.
WhatsApp for registration and any information: 9041263607
HURRY UP LAST FEW SEATS REMAINING -ON A FIRST COME FIRST COME BASIS
Due to the tremendous response for admission in the first 20 batches….. seats are increased in the 21st session.
Avail benefits of Fee Reduction due to online batches & relief for the Covid-19 pandemic situation as a gesture.
CHANCE TO GET FULL REFUND OF FEE
WITH E-BOOK FACILITIES
CEV ANNOUNCES AWARDS / SCHOLARSHIPS FOR ITS MEMBERS
OPPORTUNITY TO GET FULL FEE BACK FOR EDUCATIONAL COURSES ALONG WITH CERTIFICATE OF EXCELLENCE
NO FEE IS PAYABLE BY CEV IAF EXISTING MEMBERS